*Please note: The Calendar Integration is only available for Organizations on a Paid plan. The Free plan is a great way to test out Shortcut, but when you're ready to bring in more users and/or try new features, we have a plan for you.
How Shortcut Due Dates Work with Your Calendar

The Shortcut calendar integration allows everyone in your Workspace to keep track of due dates from Shortcut in your calendar. Shortcut due dates can be integrated with Google Calendar or a standalone calendar and are a one-way sync: due dates from Shortcut are communicated and updated to your calendar, but not the other way around.
Please note that once a Story or Epic is archived, marked as complete, or if the due date is 90 days in the past, it will no longer be shown in your calendar.
Turning on the Shortcut Calendar Integration
Access Shortcut settings from the gear icon: Settings > Integrations > Calendar. Make sure your Integration Status button is toggled to the "on" position:

Connecting Shortcut Due Dates to Your Calendar
Once you have the calendar integration turned on, Shortcut will produce iCal links for due dates of any Story you own as well as all due dates across your Workspace.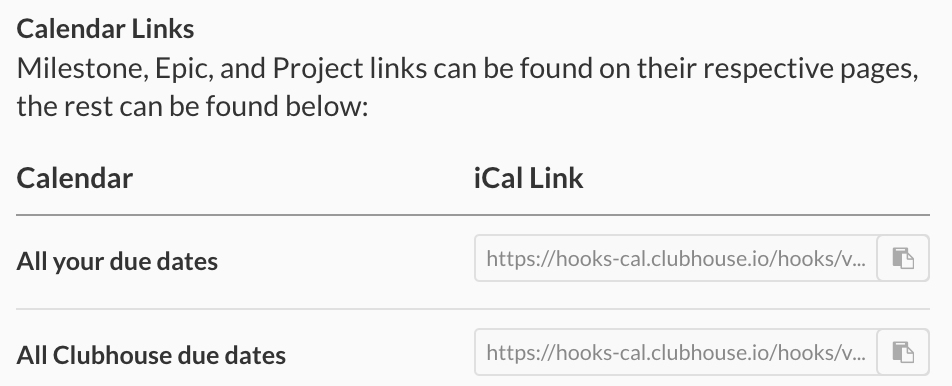 Important
Please note that these are public iCal URLs. Anyone who has one can view the title of your Shortcut due date group, its URL, and its due dates.
iCal links for individual Milestones, Epics, and Projects can be found on their respective pages.
Adding Shortcut iCal to Google Calendar
The Shortcut iCal link can be added to your Google calendar in four easy steps:
Copy the iCal link from the Shortcut calendar integration page.

On the left hand side of your Google Calendar, click the dropdown arrow next to "Other calendars."

Select "Add by URL."

Paste the iCal link into the URL field and click "Add Calendar."
Your Shortcut due dates associated with the iCal link you added will now appear in your Google Calendar. Please note that Google Calendar does not immediately refresh. It might take up to 12 hours for changes to show in your Google Calendar.
For more information on how to integrate iCal links into your standalone calendar, please consult the documentation of your specific calendar software.
Updated