Please note!
New Shortcut users will not have access to Projects as it is a legacy feature and will be phased out over time. Existing users can toggle Projects off or still use them for now however they will eventually be replaced by Fields. Have questions? Read more here
Project Velocity Chart
Each
individual Project page
has a Velocity Bar Chart that visualizes Stories or Story Points completed across several intervals. This chart surfaces trends about how your team has performed and highlights the average and trailing average number of Stories or Story Points completed over that time period.
Project Lead / Cycle Time Chart

Cycle and Lead Time Reports provide your team with the data you need to plan and allocate resources more effectively.
Chart Types
The Cycle Time Chart can be accessed via upper right-hand corner drop-down. This chart represents how long it takes a Story to be completed after it is Started. This can provide insights such as: "On average it takes us a X amount of days to complete certain types of Stories" or surface outlier Stories.
The Lead Time Chart can be accessed via upper right-hand corner drop-down. This chart represents the amount of time that has passed between when a Story is created and when it is completed. This can provide insights such as, "We have a really long timespan before we pick up created Stories."
Custom type can be accessed via the upper right hand corner drop down. This chart type allows you to select the Start and Date used to calculate the Cycle time in the chart. You must first select a workflow; this type does not support custom states for all workflows.
Adjust States used in Calculations
Once you've selected the Custom Chart Type, you can also modify which states are included in the calculations. This is useful if you have workflows states that should (or shouldn't) be included in calculating Lead/Cycle time. When adjusting the workflow states, they must be continuous; you cannot exclude a Workflow state in between your selected Start and End state. For example, if you have a Backlog or Icebox state that shouldn't really count towards Lead Time, you can remove it from the calculation. Or, you may have many States in your Done workflow state category and you want to include all of the states for a Story to be considered completed.

Chart Axes
The Y-axis of the chart represents the number of days.
The X-axis represents the completion dates of the Stories in the selected date range, Epic, Milestone, Iteration or Project in which you are viewing Cycle Time or Lead Time reports.
Report Stats

The chart provides an average Cycle Time and Lead Time as well as Minimum time. The average is also represented in the chart as the dashed line across the chart:

Trailing Average and Story Type Filter
A 7-day trailing average is also included in the chart. The trailing average does not calculate the average over the last 7 consecutive days, rather the last 7 days of available data.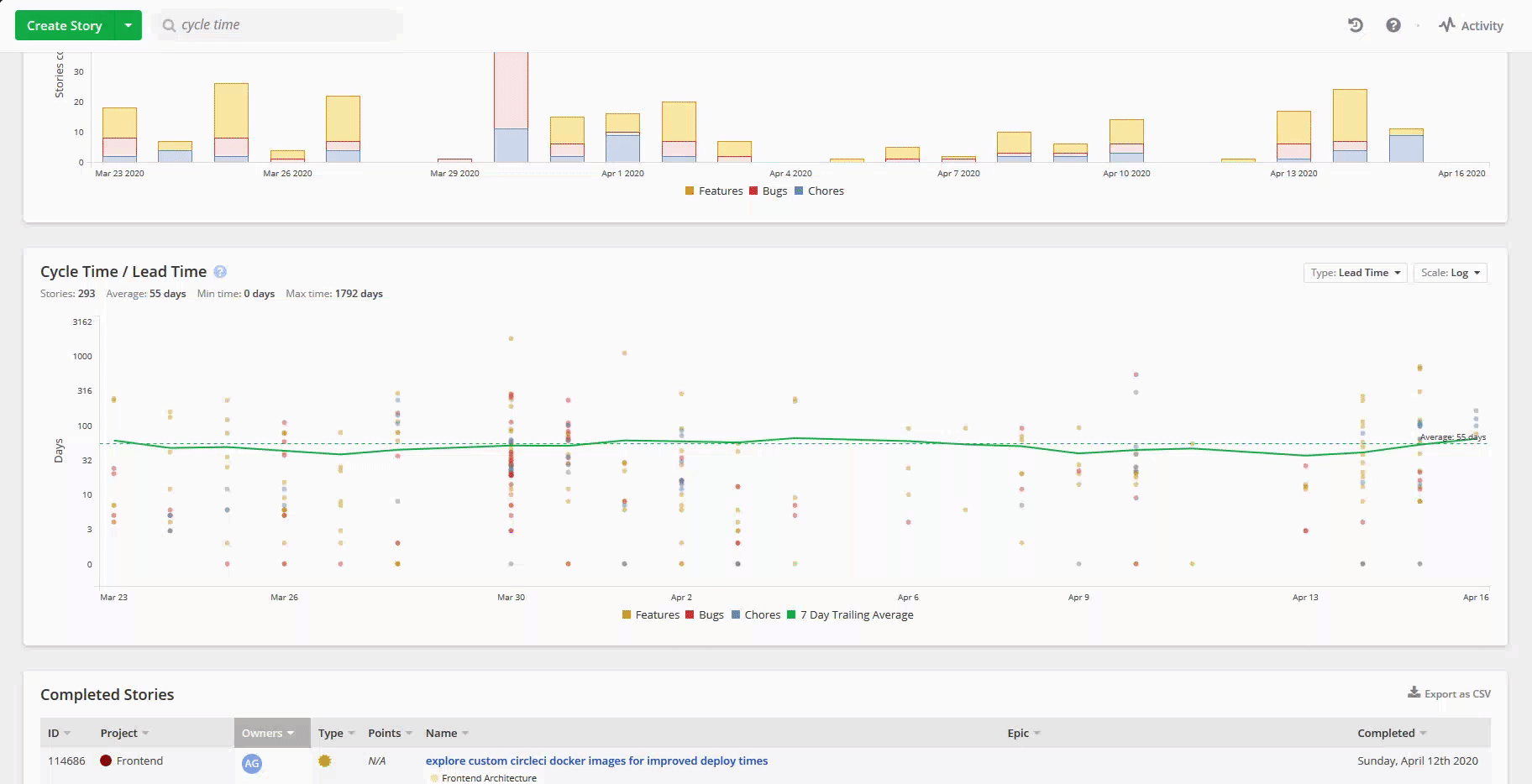 Stories within the chart are represented by colored dots. Clicking on a dot will open the selected Story. Each Cycle Time and Lead Time chart can also be filtered by Story Type (Bug, Feature & Chore) as well as a 7 day trailing average.
Project Cumulative Flow Diagram

A Cumulative Flow Diagram after several weeks of activity
The x-axis of the Cumulative Flow Diagram represents time from Project's start date to today's date, while the y-axis measures the number of Stories in the Project and how the number of Stories in each Workflow State has grown/shrunk. The x-axis will start at the date when the Project was created.
If the range ends up being more than 183 days, we switch the interval to weeks, and if the range is more than 730 days we switch to months.
As Workflow States are unique for each Workflow, only one Workflow can be viewed at a time. This can be selected in the workflow dropdown.
Sum Using drop down can be used to display the work completed in points or in the number of stories. This setting will override your current Estimate Scale default (Setting > Estimate Scale) for just this report.
Updated