The Iteration Detail Page can be accessed in two ways:
1. From the Iteration field on the Story dialog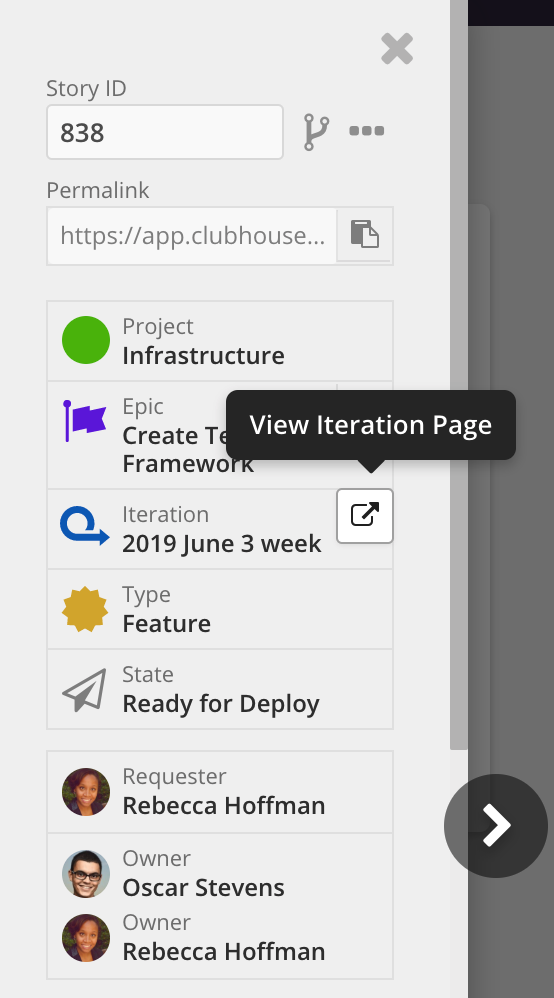 2. From the Iterations Manage page, by clicking on the Name of the Iteration

The Iteration Detail Page
At the top of the Iteration Detail Page, you'll find the Iteration's Name along with the Description field.
On the top right, you'll see the:
Iteration ID (click to copy)

State (Unstarted, Started, Done)

Your Iteration will automatically move from Unstarted to Started when the Start date of your Iteration arrives.

Date Range (click to select the date picker)

Grouping and Sorting on the Iteration Detail Page
Grouping
The Iteration Detail page will contain a table view of all Stories in the Iteration. You can use the "Group By" drop-down menu to group Stories by Project, Workflow State or None, which defaults to the stack ranked Story priority from the kanban view on the Stories page.
Column Header Sorting
When your "Group By" option is selected as "None," you can click the Column Headers in the Story table to sort the Stories in an Iteration accordingly.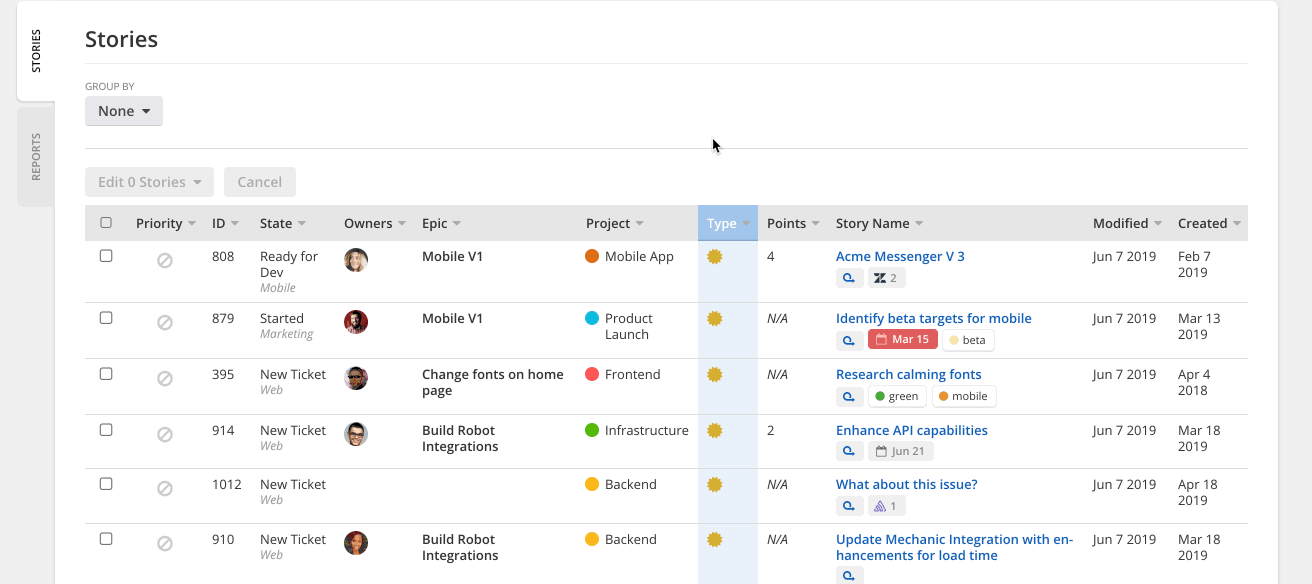 Reporting on the Individual Iterations Page
Scroll down to the bottom of the page, or click the Reports tab on the right to hop to the Report view, where you'll see a Burndown Chart of how your Stories in the Iteration are progressing.
Iteration Burndown Chart
The Iteration Burndown Chart is a graphical representation and projection of remaining unfinished work in that Iteration. See Iteration Burndown Chart for a complete walk-through of Iteration Burndown Chart features.
Iteration Cumulative Flow Diagram

A Cumulative Flow Diagram after several weeks of activity
The x-axis of the Cumulative Flow Diagram represents time from Iteration's start date to today's date, while the y-axis measures the number of Stories in the Iteration and how the number of Stories in each Workflow State has grown/shrunk. The x-axis will start at the date when the Iteration was created.
If the range ends up being more than 183 days, we switch the interval to weeks, and if the range is more than 730 days we switch to months.
As Workflow States are unique for each Workflow, only one Workflow can be viewed at a time. This can be selected in the workflow dropdown.
Sum Using drop down can be used to display the work completed in points or in the number of stories. This setting will override your current Estimate Scale default (Setting > Estimate Scale) for just this report.
Want to see Iterations in action? Explore our Sample Workspace, which contains pre-filled information that will allow you to see how it all works together. Access it by clicking on your User Icon on top right > Help / Feedback > Sample Workspace.