Let's learn the basics of Shortcut Write.
Welcome! Shortcut Write allows for free form documentation, ideation, and collaboration in an easy-to-use document editor.
You can use Write to house any internal documentation that you would like to share or reference anywhere in Shortcut. Here are a few ways our team uses Write:
Creating a simple, clean list of action items

Housing release notes

Sharing meeting minutes

Drafting marketing and blog posts

Planning team goals in a living, collaborative document
Today, we'll be jumping in together to walk you through creating your first document in Write. Bring your biggest ideas and we'll learn how to make them into reality!
Have more questions about Write? Our blog features a more in-depth explanation of Write here if you're interested in learning more.
Creating a Document
For this tutorial, we've selected Creating a simple, clean list of action items as our demonstration.
1. Create New Document
First, access Shortcut Write via the sidebar and click "Create Doc" to create a new document. Go ahead and give your document a name, too!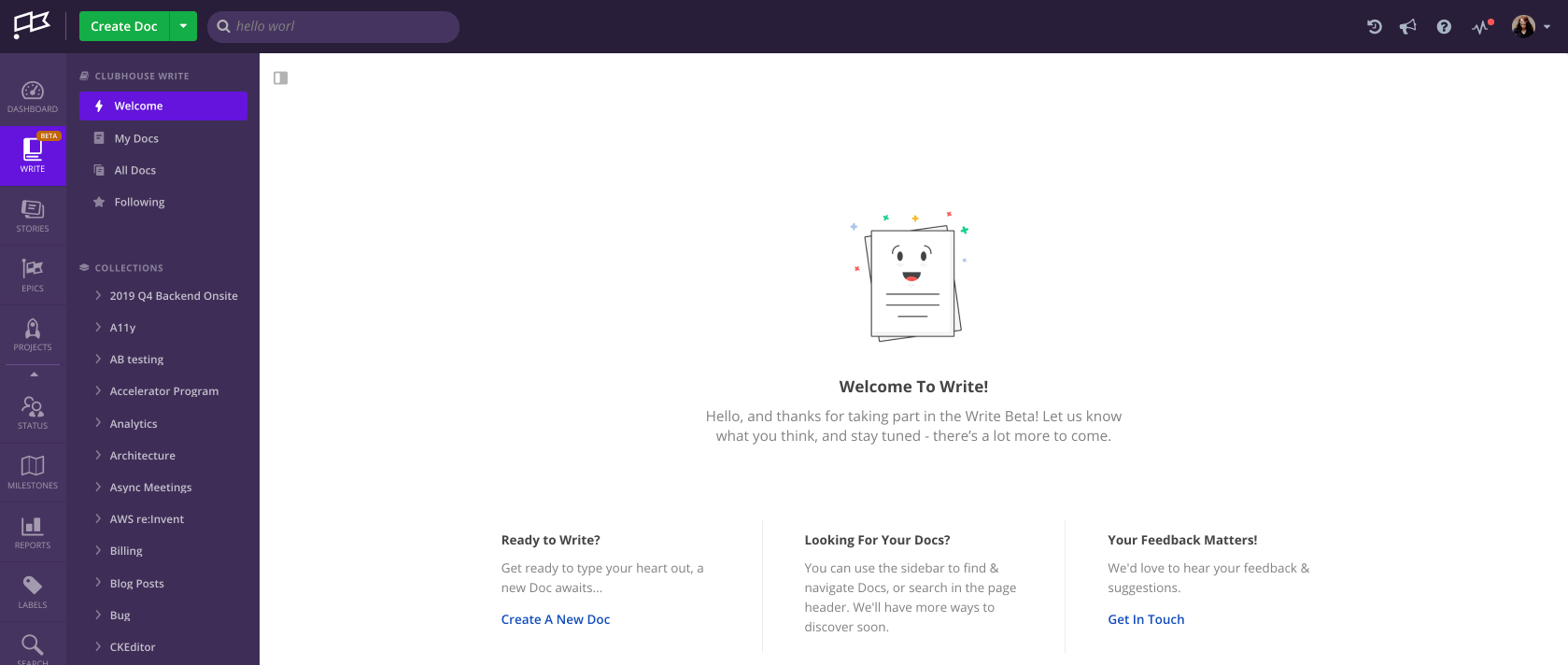 2. Make a List
Next, let's master the basics. Begin typing the things you'd like to organize in a list. When you're ready, select them and apply the "Bulleted List" function from the toolbar.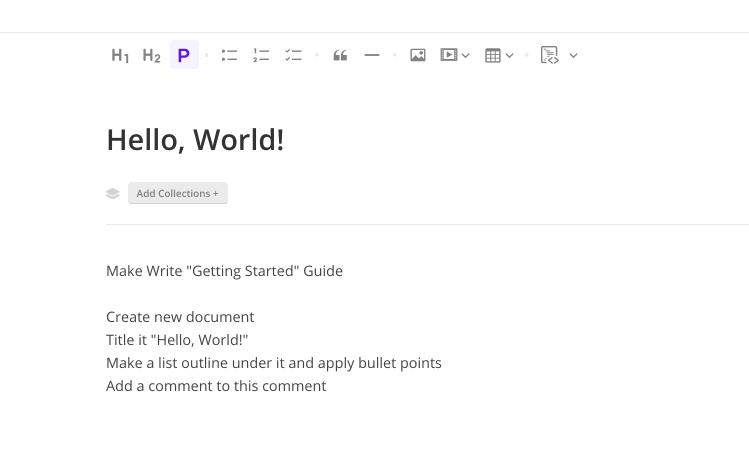 3. Layout Customization
Time to stylize! The top bar is home to many useful functions:
H1 (Transform into Heading 1 size)

H2 (Transform into Heading 2 size)

P (Format as a paragraph)

Bullet points

Numbered list

Block quote

Insert image

Insert media (via direct link)

Insert table

Insert code
Give them a try!


4. Text Customization
Ready for even more customization? Select a chunk of text to launch the hovering toolbar. You unlock even more tools here!




The quick bar features:
Bold

Strikethrough

Code

Link

Highlight

Remove highlight

Comment
5. Collaborate and Share
Our list looks great - let's get some feedback from our team before launching it.
Look for the box that currently says "Private" in the upper right corner. When dropped down, click the "Workspace" option to automatically make your document Public. From here, you can also easily click "Copy URL" to make sharing even easier!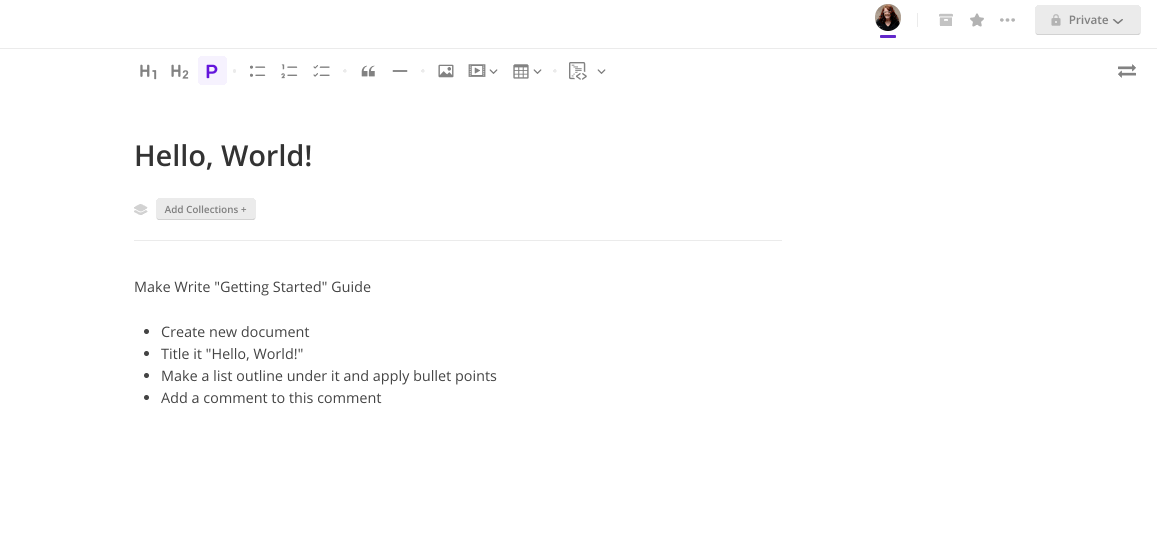 6. Give Feedback
Let's switch perspectives and imagine that you've been asked to give feedback on a Write document. There are several helpful features for you to do just that!
First, you can "Follow" the document by toggling the star in the upper right corner. This will notify you of any changes made to the document via your "Notifications" panel in Shortcut.
Ready to add a comment? It's easy! Select what you'd like to comment on and tap the "Comment" bubble on the pop-up toolbar.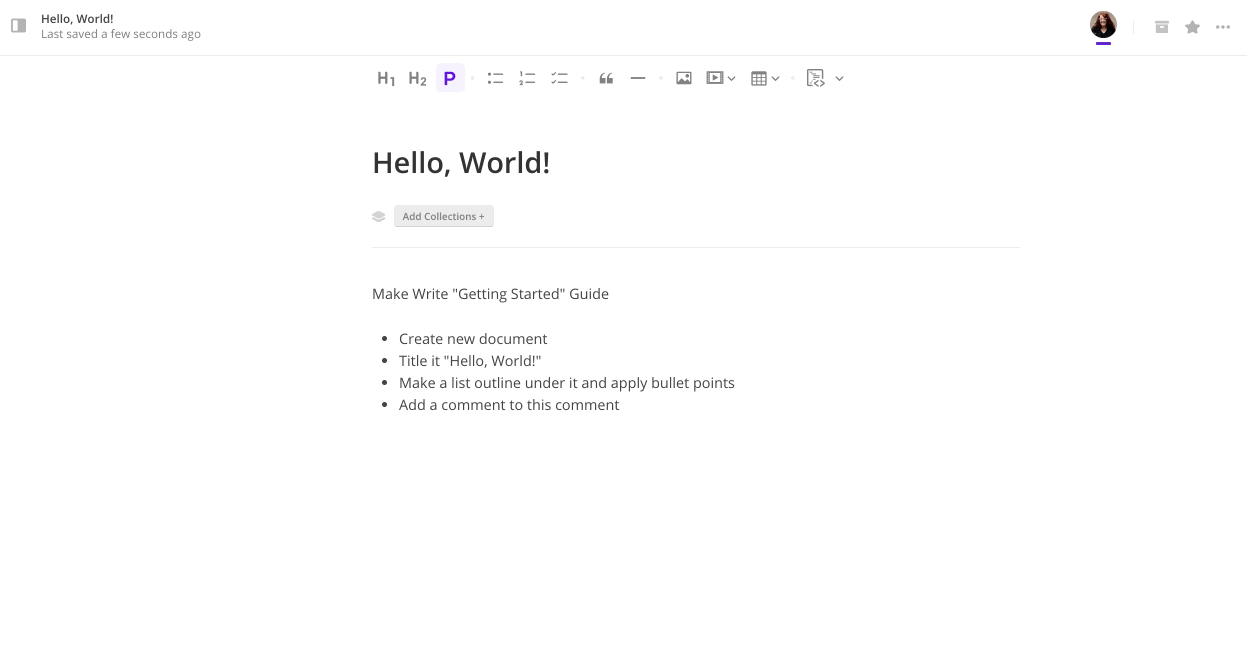 All set! You've mastered the basics of Shortcut Write. Ready to become an advanced user? We have more guides and tutorials in our Help Center.
Happy Write-ing!