Adding a New Workspace to Your Organization
Note
Free plan accounts only have access to one (1) Workspace for the entire organization. For additional access, please consider upgrading to a paid plan.
Start by clicking in the upper left-hand corner of the app, and click View All from the drop-down menu.
An Organization is a collection of Workspaces that are all under one umbrella, and is usually mapped to the name of your first Workspace. To create a completely new Workspace, select Add Workspace to Organization next to the Organization you want that Workspace to be added under.
You'll be taken to a screen where you'll see a message stating that you're creating a Workspace and listing what Organization it's being created under. This is also a good way to confirm that:
You're creating a Workspace (and not an Organization),

You're creating a Workspace under the correct Organization.
One you've named your Workspace and chosen a URL for it, click Finish to create it. You'll be taken to your new Workspace, where you can go through the product tour again or get started with setting it up.
Note: You can have as many Workspaces as you need, and your Organization's users can be in any or all of those Workspaces. For paid plans, your Organization will only be charged once per user, regardless of how many Workspaces they are a member of.
Setting Your Default Workspace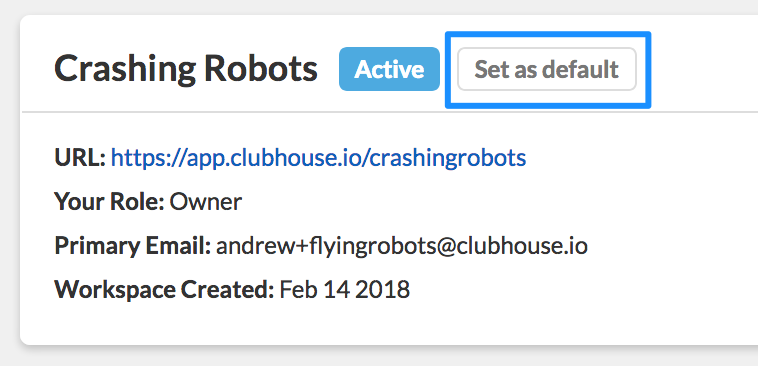 Your default Workspace is the one that you automatically enter when logging into Shortcut. Until you change it, your default Workspace will be the first one created in an Organization.
If you'd like to make another Workspace the default, choose Set as Default next to that Workspace's name. Setting a default Workspace won't change anyone else's default Workspace, only yours.
Disabling and Re-enabling a Workspace
If you are the Owner of a Workspace that you want to close, you can easily disable your Workspace by going to the settings gear wheel and then Workspace Settings> General Settings.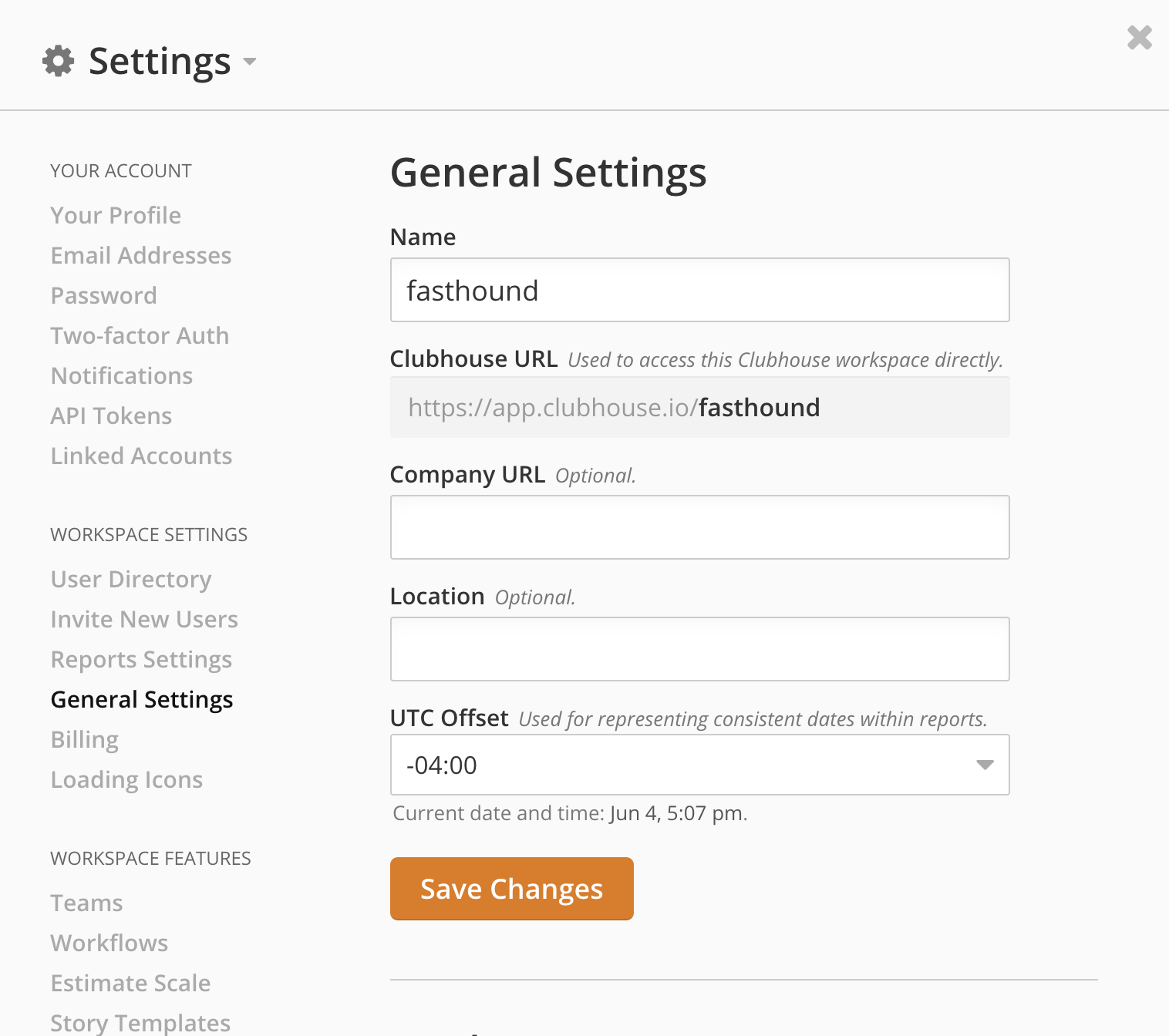 Once there, scroll down to Disable Workspace and click on Go to the [Workspace Name] Organization Dashboard.



Find the name of your Workspace, and click on the trashcan icon next to it (on hover, it will say Disable this Workspace). Once it's disabled, the Invite button will change to Disabled and turn grey, and you'll see a green confirmation notification.
You can re-enable a disabled Workspace by clicking the arrow icon next to the disabled Workspace. The Invite button will turn active and white. If the Workspace is part of a disabled Organization, you'll need to re-enable the Organization first (and all of it's Workspaces).

Deleting an Organization or Workspace
We understand that from time to time, folks have their reasons and may need to delete a Workspace or an entire Organization. Here's a handy guide on how to take advantage of our new self-service options, all within Shortcut.
Note: You must be the Workspace Owner to perform this action.
Deleting a Workspace
To delete a Workspace, first make sure that you have manually backed up, copied, or saved any relevant information from this Workspace.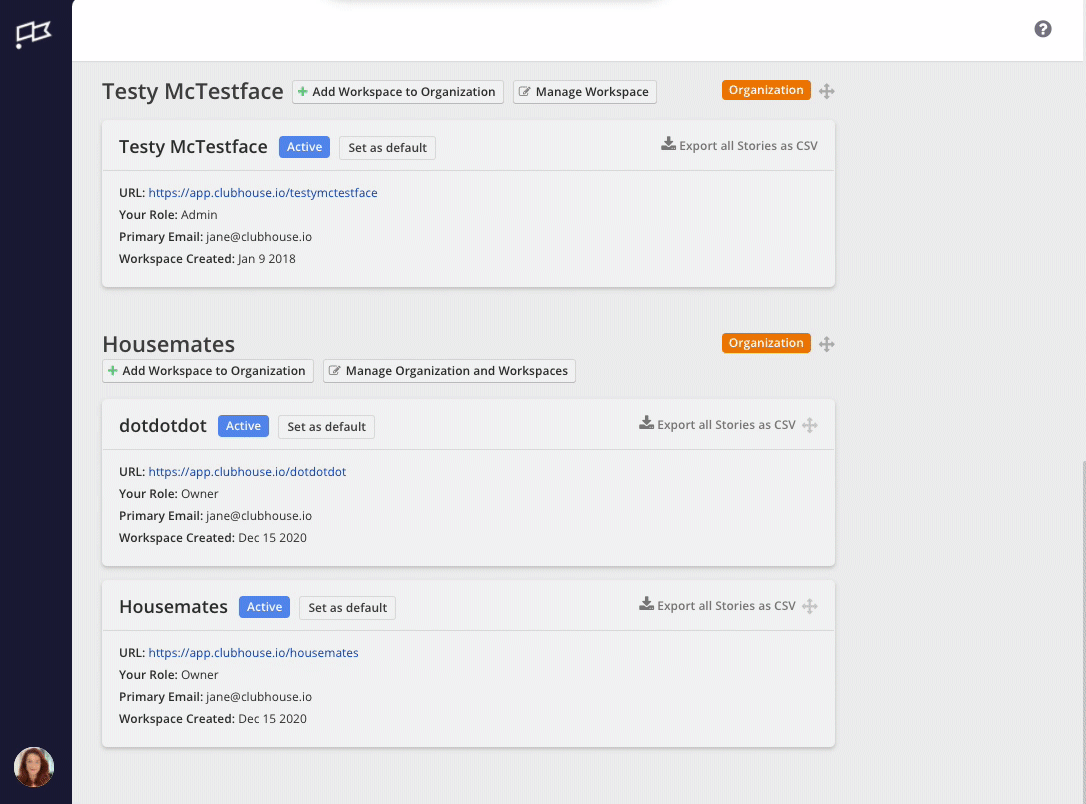 Head to your Organization Dashboard.
Look for the button to Manage Organization and Workspaces within your desired Workspace.
Use the trashcan icon to move the Workspace to a disabled state.
If necessary, uncheck the option to "Hide Disabled Workspaces".
Use the newly appeared red trashcan to delete your Workspace permanently.
Note: This action deletes your Workspace. Please make sure that your data is secured before deleting your Workspace.
Type to confirm the name of the Workspace being deleted. This is case sensitive.
The Workspace will now begin to be deleted, showing you a "Locked" Workspace as the deletion script completes.
Refresh the page and observe the Workspace has been deleted.
Deleting an Organization
To delete an Organization, first make sure that you have manually backed up, copied, or saved any relevant information from this Organization or any of its containing Workspaces.
Note: You must be the Organization Owner to perform this action.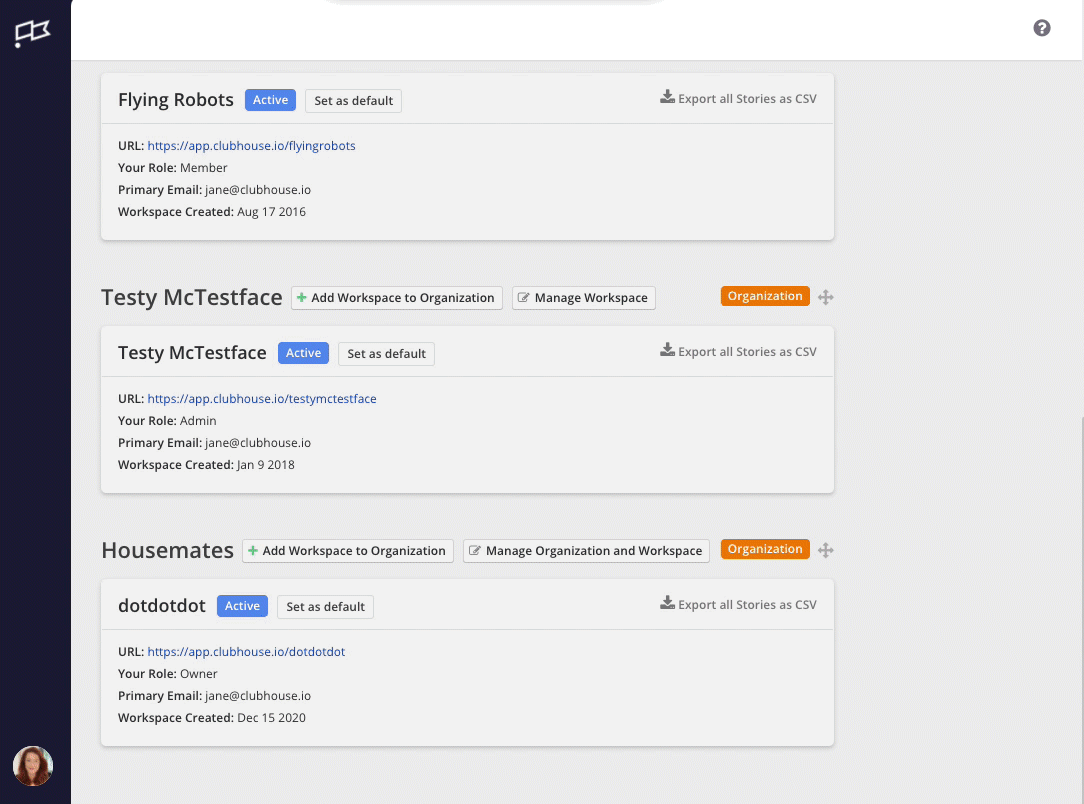 Head to your Organization Dashboard.
Look for the button to Manage Organization and Workspaces within your desired Organization.
Use the red button in the corner marked Disable Organization to start the process.
Confirm with the popup that you do indeed want to disable the Organization.
Once the disable sequence finishes, observe and use the red Delete this Organization button.
Type the name of the Organization to confirm that you are requesting a permanent deletion of your Organization. Note: this is case sensitive.
Once confirmed, allow the system a moment to finish up deleting your Organization and you will be automatically placed back at your Organization Dashboard (ready to start fresh with a new Organization, we hope).