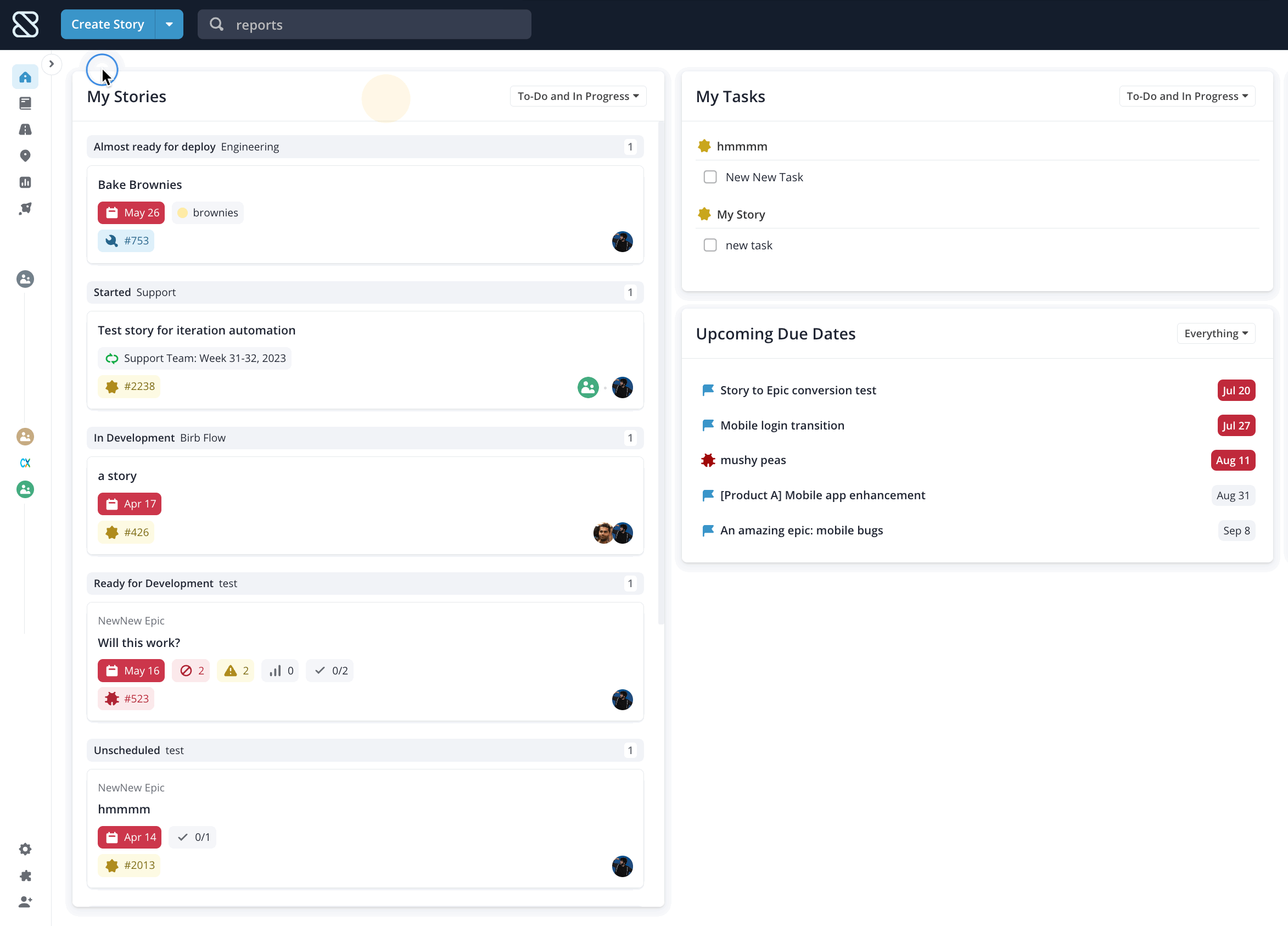 Within the Settings of your Workspace, prepare your team for success by building the foundation and setting the appropriate information. True to our values, use this space to bring a bit of Joy with custom settings! From here, you'll be able to access:
User Directory
Invite New Users
Import Data
General Settings
Billing
Loading Icons
Estimate Scale
And more!
Name, Location, & UTC Offset Settings
While the names and URLs of all Shortcut spaces are defined during the initial setup, we do allow you to change the name and website of your Workspace as you wish.
You can update your Workspace name, website, location, and UTC offset by going to the settings gear wheel and then Workspace Settings > General Settings.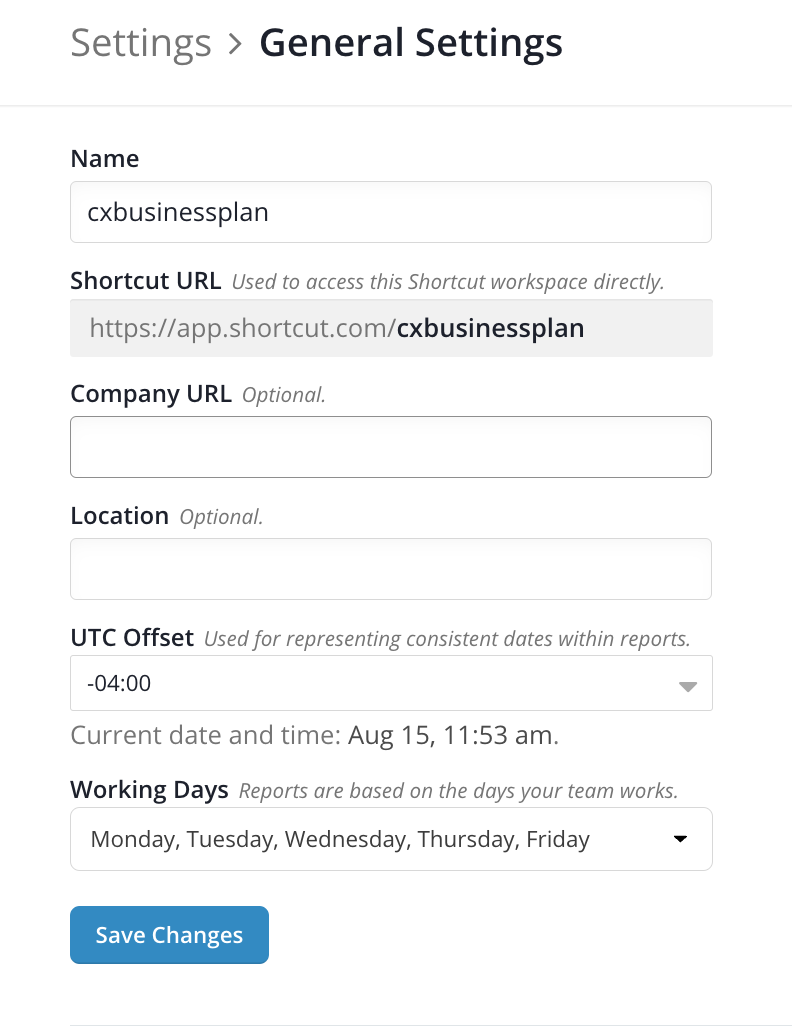 Reports are rendered against the Workspace's UTC offset.
Working Days
Some teams don't work every day of the week so counting reporting on those off days is mostly unnecessary. Shortcut has a Workspace level setting that allows an Owner or Admin to set certain Working Days.
All calculations, metrics, and lines on the Burndown Chart take Working Days into account to give you a more accurate representation of your work. The Default Working days are Monday through Friday, inclusive.
Currently, only the Burndown Chart accounts for non-working days, but the rest of the charts will be updated soon.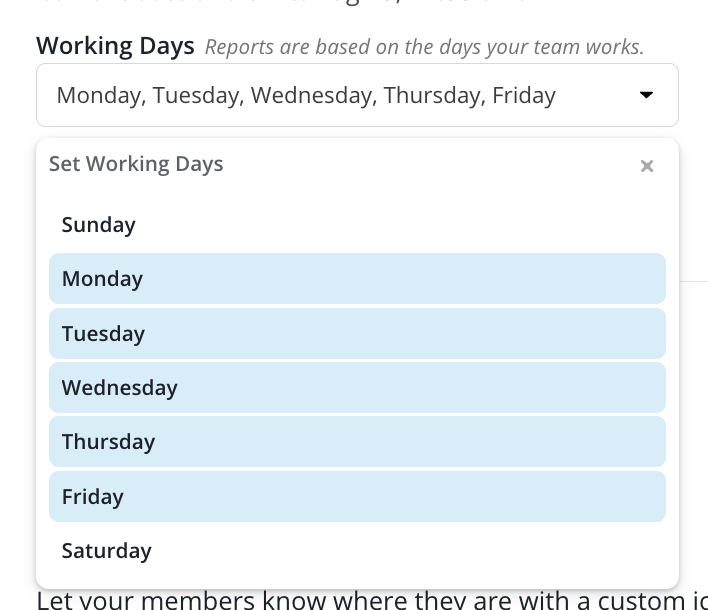 Workspace Icons
You can customize your Workspace with your own icon or company logo by going to the settings gear wheel and then Workspace Settings > General Settings and uploading the icon. The icon must be 180px by 180px.

Custom Loading Icons
While Shortcut comes with a default Shortcut logo loading icon, your Workspace may also wish to add a custom loading icon using your logo, mascot, or any other significant image.
To do so, navigate to Settings > Loading Icons. There you can upload your image (we support JPG, PNG, and GIF formats) and set the loading message. If you want the loading icon to spin, select the blue spinning logo in the upper right-hand corner.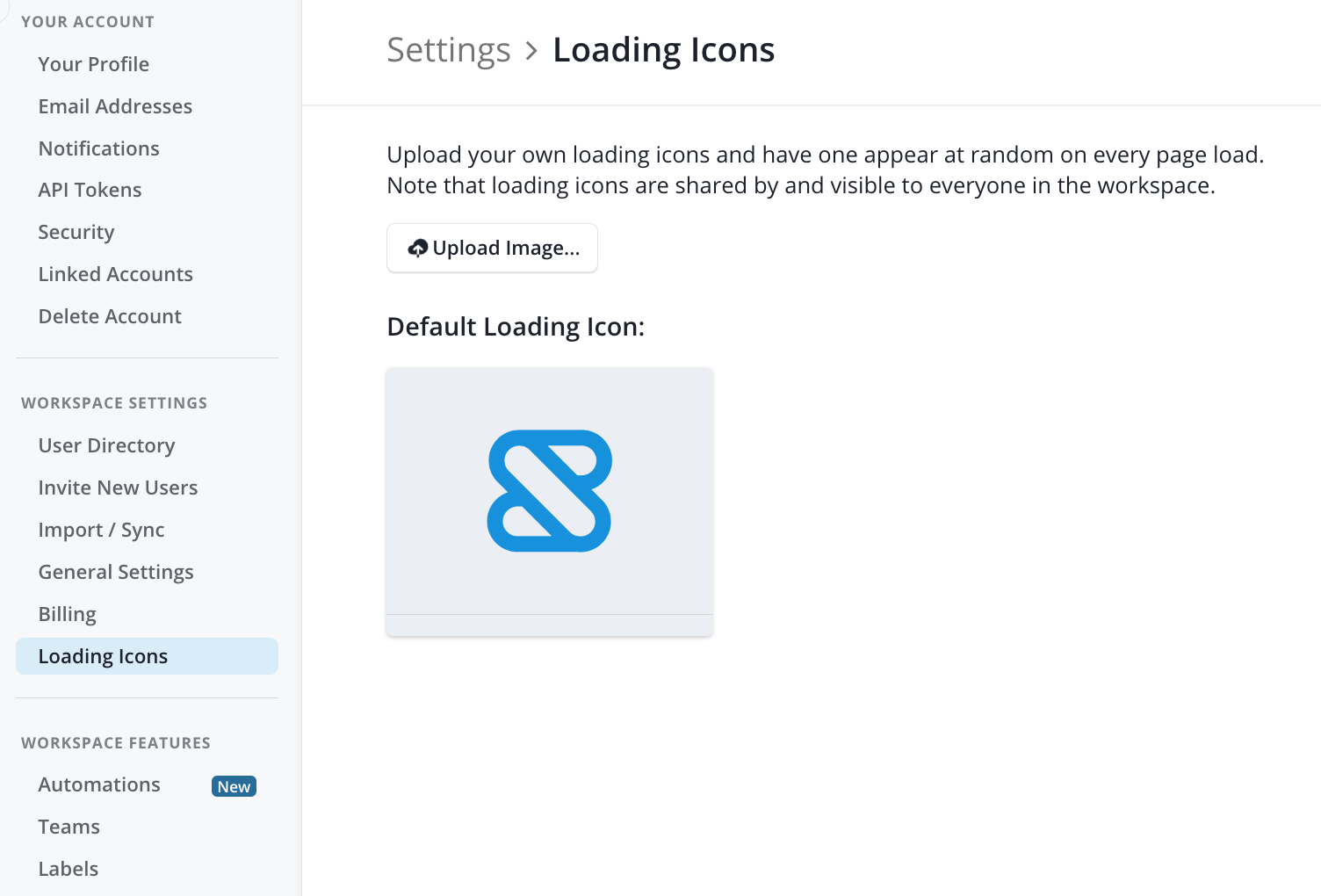 Reports & The Estimate Scale
Shortcut offers several graphs and reports that you can use to visualize your Workspace's productivity. You can express whether you want to track progress in Estimate Points or Story Count by selecting from the Show Progress and Metrics Using dropdown.

Setting your Workspace's Points Estimate Scale
Story point estimations can be an important part of a Workspace's agile development methodology. However, no two teams handle estimations exactly the same. Shortcut gives you the option to customize your estimate scale in the Settings > Estimate Scale. Stories can also be set as unestimated, which is the default for new Stories.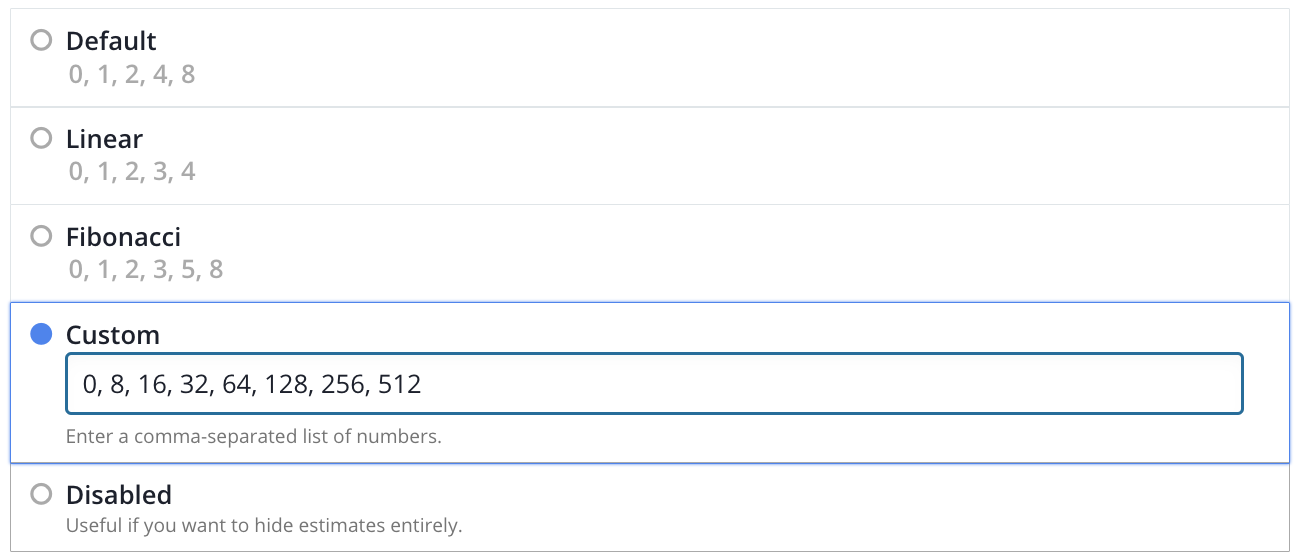 Fractional values (e.g. 0.5, 1.5, etc.) are not supported at this time.

If your team doesn't use points, you can go ahead and select Disabled and the points section will disappear system-wide.

Why was my Organization Disabled?
Only an Owner can disable an Organization, so we recommend that you first check with other Owners in your Organization. If you've done this and still aren't sure why your Organization was disabled, we recommend that you contact our Support team for individual assistance. In general, a billing issue is the most common reason Organizations are disabled.
Did your most recent payment fail? If your payment fails and an invoice is marked as uncollectible, we'll reach out to the Organization Owner or Owners about resolving the outstanding invoice. If we don't hear back and/or no payment is made within 5 business days, the Organization will be disabled and locked, and the subscription canceled, until the outstanding invoice is paid. We'll keep the Organization data just as you left it until you're ready to resume the subscription. Please note that unpon enablement, a new subscription billing cycle will start and a new invoice will be issued.
Updated